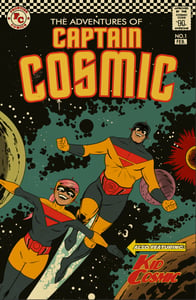 £

3.00
Welcome to the Cosmic age of Superheroes in this FANTASTIC PRINTED first issue!
ISSUE 1:
Entire planets are disappearing and fear is spending through out the galaxy. Prime Consoler Zoltan of the Commonwealth of Worlds, calls in the only people that can help, The Galaxy Defenders known as Captain Cosmic and Kid Cosmic!
Will our Cosmic heroes be able stop whatever menace that has befallen the galaxy and save the the day?! Find out in the MYSTERY OF THE MISSING PLANETS!!
(Preview images can be find on the preview page to the right of the store!)